After its recent announcement of a "Fortress Balance Sheet", which enabled it to be one of the most resilient financial institutions amid the global pandemic, Metropolitan Bank &Trust Co. (Metrobank) continues its advocacy to help reinvigorate the economy through financial grants to select government agencies and non-profit organizations.
Through the Metrobank Foundation, Inc. (MBFI) and the GT Foundation, Inc. (GTFI), Metrobank will distribute grants worth PhP 15 million among twelve cause-oriented groups.
The bank is committed to continue the legacy of its Founder in making a difference in the lives of those belonging to communities in need. "Our annual ceremony is renamed the 'George S.K. Ty Grants Turnover' to honor and perpetuate the legacy of our founding chairman. This grants turnover is one venue where we continue to carry on his values through programs and projects of our social development partners," said MBFI President and GTFI Executive Director Aniceto M. Sobrepeña in his opening address. Also present in the virtual proceedings were Metrobank President Fabian S. Dee and Metrobank Chairman Arthur V. Ty.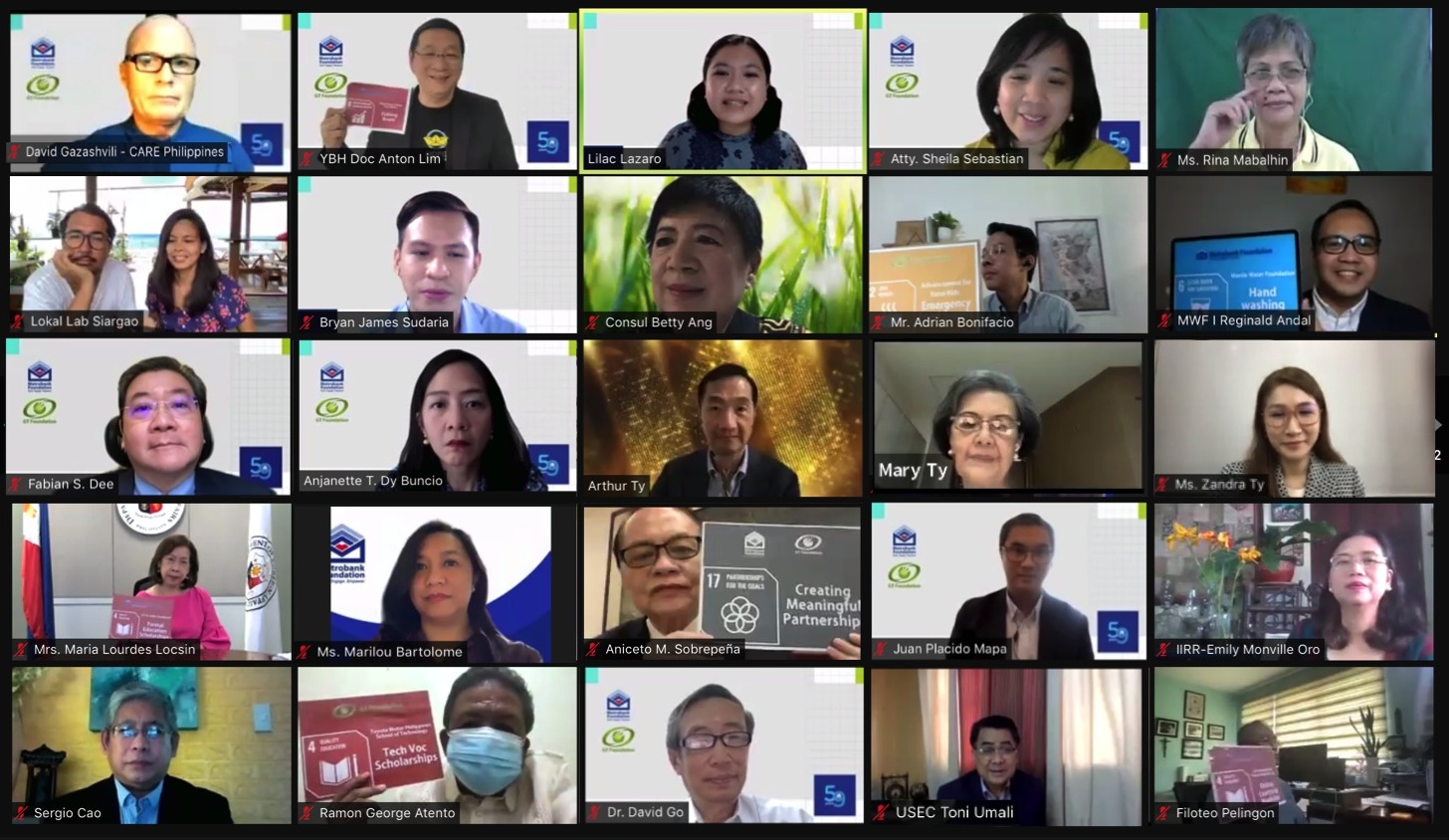 The Department of Education (DepEd) is one of the recipients this year, and the donation will support the DepEd's "new normal" projects that harness technology and mass communication that will help students, parents, teachers, and schools nationwide.
For the non-government organizations, the GTFI gave grants to Cebu's Communities For Alternative Food Ecosystems Initiative (CAFEi). CAFEi supports farmers in Cebu, providing them with financial assistance and training to create sustainable food systems and to live healthy lives.
"As we commemorate our 59th anniversary, we are focused not only on increasing the profitability of our business but also on fulfilling our corporate social responsibility," Dee said. "While we celebrate our anniversary in thanksgiving as we remain strong amidst the challenges of COVID-19, we remain cognizant of the plight of our kababayans. Thus, we hope that the PhP 15 million meaningful aid can help more people in need," Dee shared.
Other organizations that received grants were the Manila Water Foundation, International Institute of Rural Reconstruction, Communication Foundation for Asia, International Bazaar Foundation, DFA Ladies Foundation, Lokal Lab, Care Philippines, Yellow Boat of Hope, Advancement for Rural Kids (ARK), and the Toyota Motor Philippines School of Technology (TMPTech).